Language:

日本語
About our wax service
Wax is generally thought to be applied to make it slippery. But it just slips well on wax. It's not just that it's important that it makes sense. Nowadays, the quality of the sole is improving, and it is possible to slip without waxing. However, the quality of snow and the weather still have a great effect on the quality of slippage. Sometimes it slips well, sometimes it doesn't slip at all. The fluctuation range of this gliding ability hinders the improvement of technology and leads to the stress of not slipping in an emergency. By applying wax on a daily basis, the difference between slipping and non-slip can be reduced as much as possible, and a constant gliding ability can be maintained at a high level. This stacking will make your snow life more enjoyable.
However, hot wax takes time and effort. Even if you bring it to the shop, there is also a waiting time…..
It's a waste to spend time on wax even though you've come to a ski resort! Please use the wax service by delivery.
This is a wax service that allows you to balance "time to enjoy Hakuba" and "preparation to enjoy the snowy mountains better".
Wax Hakuba's hot wax is a manual process. It's easy to think that only the choice of wax is important, but no matter how good the wax you choose, if you make a mistake in applying it, it will be ruined. First of all, know the condition of snowboarding and skiing. By doing it manually, you can get a better idea of the condition of your snowboard or ski, and as a result you can get a high quality hot wax.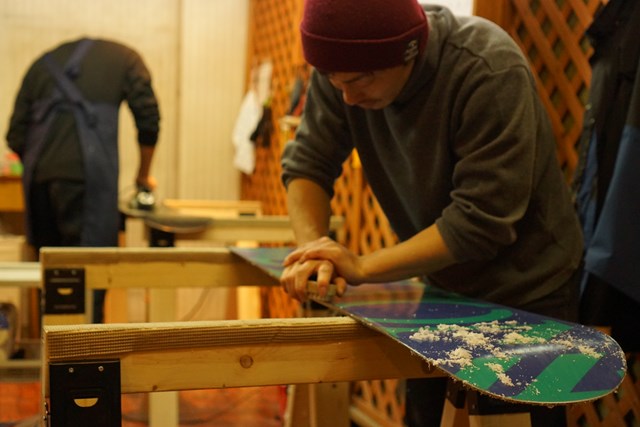 How to store snowboards with wax in the off-season. The off-season has a big impact on the life of your snowboard! At a minimum, let's keep this! 🔗(All Japanese)

https://www.waxhakuba.online/article/
---
Wax Hakuba (Operating company: Worth it, LLC )
Hakuba Village, Kitaazumi District, Nagano Prefecture, Japan 399-9301
Tel: (+81) 080-6931-3353 E-mail: waxhakuba@worthitllc.jp
Representative Hirotsugu Yamada (former JSBA certified professional snowboarder)